01246 566193
Georgia Clarey wins SCT 2019 Enterprise Award!
30-May-2019
30-May-2019 15:54
in General
by Admin
Eighteen-year-old Georgia Clarey is the winner of Stubbing Court Training Ltd (SCT)'s 2019 Enterprise Award, which was judged and presented at Chatsworth International Horse Trials by Ian Stark OBE. Georgia is employed by Russell Atkin at his Ingthorpe yard near Stamford, where he has a hunter livery and horse-dealing business.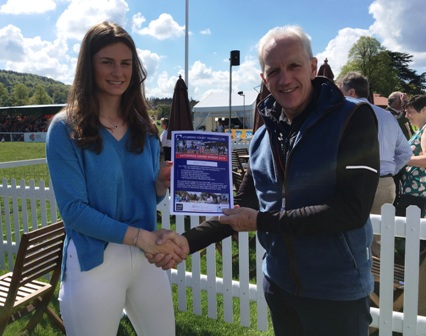 SCT, Britain's leading provider of Apprentices to the equestrian industry, created the Enterprise Award with the help of the British Equestrian Federation (BEF) to encourage Apprentices to help the businesses in which they are employed to be more successful.
SCT Chief Executive Belinda Turner said: "There is an increasing need for effective, profitable business management. Apprentices have a key role to play in helping the businesses they are employed by to be more successful, but sometimes this could be better utilised and recognised."
Georgia, who is doing a Level 3 Advanced Apprenticeship, said: "I created a portfolio showing my contribution to the business, focusing on promotions and communications, aspects of the financial side of running a successful yard, and demonstrating mutual support between our suppliers and us.
"I really enjoyed it – the management side of an equestrian business is something I would like to be involved in in the future."
Georgia has worked for Russell for two years, since she left school. "Georgia is hard-working, reliable and confident," said Russell. "I was very impressed that she would work in the yard all day and spend her time in the evenings researching her Enterprise Award project."
Former Olympic event rider and now world-famous cross-country course-designer Ian Stark praised all the SCT Apprentices' Enterprise Award portfolios. "They were all very strong candidates with some excellent business ideas that they had put into action. I think the SCT Enterprise Award is a wonderful initiative which promotes the fundamentals of business success. The candidates have had an invaluable insight into the vision and commitment needed to ensure the sustainability and growth of every business in the horse industry."
Georgia won £100, and an exclusive place on the BEF's prestigious "Young Professionals" training day.
She said: "I would thoroughly recommend that anyone who is leaving school and who wants to work with horses does an SCT Apprenticeship. You learn on the job, which means that you learn constantly but without pressure, while earning a wage, and it is a great way to get great experience and a qualification. The support I have received from SCT has been brilliant – they are always positive and are there to help you."