01246 566193
SCT Masterclasses are 'Fantastic' says Sampson
30-April-2017
30-April-2017 11:08
in General
by Admin
International showjumper Matthew Sampson has always been a great supporter of Stubbing Court Training Ltd (SCT)'s equine Apprenticeship programme, and is currently employing two SCT apprentices at his own yard. His exclusive Masterclass for SCT apprentices and employers at Parklands EC, Sheffield on 31 March was another huge success.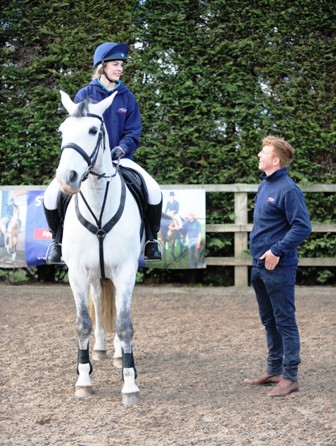 Sampson said: "It was another great day working with Stubbing Court Training Ltd. It's fantastic to be involved in a team that specialise in training and working with young, up-and-coming apprentices. Today is a great credit to the whole team at SCT, creating this opportunity for many young equestrians."
This was the second in SCT's acclaimed Masterclass series for 2017, following an outstanding day with former British eventing team performance manager Yogi Breisner in January.
Sampson taught nine groups of varying abilities and experience, and all the attendees felt that they had benefited from the successful showjumper's practical approach to training.
One attendee commented: "Matt was very down-to-earth and encouraging, and he wasn't afraid to try things to see if they worked, which made a refreshing change!"
Belinda Turner MBE, SCT's Chief Executive, said: "These Masterclasses are a unique opportunity for our apprentices and employers to gain access to the very best coaches and riders in Britain. They come away inspired and determined to work hard and improve the standards of everything they do."
SCT works throughout the horse industry to provide world-class training for young people through the apprenticeship programme. Equestrian apprenticeships enable young people to gain real, practical skills by "learning while they work", which are much-desired in the equine industry. They also earn a wage and gain widely respected qualifications at the same time