01246 566193
Mellor is SCT's first Enterprise Award winner
25-May-2017
25-May-2017 21:29
in General
by Admin
Elizabeth Mellor is the first winner of Stubbing Court Training Ltd (SCT)'s Enterprise Award, which was founded to reward apprentices who "go the extra mile" in helping the businesses in which they are employed to be successful. The award was supported by the British Equestrian Federation (BEF).
Three of SCT's apprentices – Elizabeth, April Brereton and Katie Leech – were selected to go forward for the final judging of the Enterprise Award by Sarah Armstrong, performance director of the BEF's World Class programme, at Chatsworth International Horse Trials on 14 May.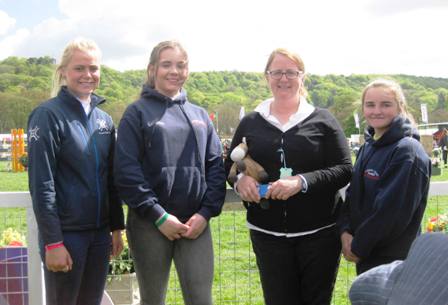 Sarah was highly impressed by all three candidates, but chose 18-year-old Elizabeth, who is employed by Hood Hill Farm livery stables in Chapeltown, Sheffield.
"All three had put a lot of work into their submissions, but Elizabeth's shone. Her thoughtfulness and very thorough approach made her a clear winner," said Sarah. "Overall, the quality from a group of people just starting out in the workplace showed some great ideas, a dedicated approach to their work and a clear passion for the equestrian industry."
Elizabeth's prize is a place on the British Equestrian Federation's prestigious three-day "Business of Equestrian" programme in Newmarket in October. She will receive training from leading experts on running an equestrian business, including health and safety, employment law, owner relationships and contracts, and managing staff and performance.
Elizabeth said: "Winning the SCT Enterprise Award has given me so much more confidence and self-esteem, knowing that if I set my mind to achieve something, I can. It shows that hard work pays off.
"My employer, Josie Gibbs, was delighted to hear I had won, and I hope to carry on making her proud during the time I work for her."
Chesterfield-based SCT works throughout the horse industry to provide world-class training for young people through the apprenticeship programme. Equestrian apprenticeships enable young people to gain real, practical skills by "learning while they work", which are much-desired in the equine industry. They also earn a wage and gain widely respected qualifications at the same time.
The aims of the SCT'S Enterprise Award were as follows:
• Promote the importance of business success, not just survival
• Develop pride in achievement and commitment to learning, improvement and business success
• Develop awareness of what makes an equestrian business successful
• Recognise outstanding conduct in the workplace and in dealing with external clients and partners
• Reward understanding of how to keep themselves and others safe and healthy, showing best practice in safety, behaviour and welfare