01246 566193
Brilliant Bartle coaches SCT apprentices
24-November-2018
24-November-2018 19:15
in General
by Admin
One of the biggest problems the equestrian industry faces is that of finding – and retaining – good staff. No top rider can achieve great heights of success without excellent, reliable employees. Stubbing Court Training Ltd (SCT) addresses this issue directly by the superb training, the wide-ranging opportunities for personal development and chances to develop employability and professionalism it gives its equine apprentices.
Keeley Durham, well-known in the showjumping world as the breeder and producer of great horses such as Argento and Welham, ridden by John Whitaker – an SCT employer himself – said: "Top riders are finding it harder and harder to find really good staff. SCT apprentices have structured comprehensive training in a professional environment, which is fantastic."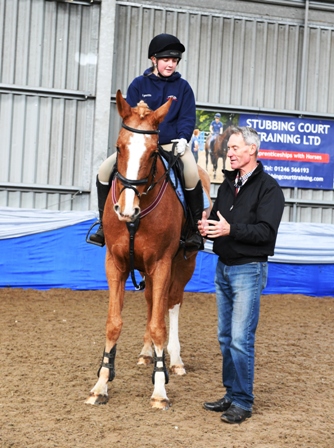 Keeley was speaking while attending SCT's exclusive Masterclass with legendary coach and trainer Chris Bartle. Chris needs no introduction – he has just coached Britain's eventing squad to team and individual gold medals at the World Equestrian Games. With a brilliant riding career – including victory at Badminton – under his belt and an even more successful 'second' career as coach to first the mighty German and now British evening teams, he is one of the best-regarded horsemen in the world.
SCT was able to give 10 groups of its apprentices and employers access to training with Chris at Vale View Equestrian in Leicestershire on 19 November. He taught riders ranging from those who have competed at a very high level to those for whom this was one of their first opportunities to ride in public.
"To be able to learn from Chris Bartle was an amazing opportunity," said 18-year-old Georgia Rutherford, who is undertaking her Level 3 Advanced Apprenticeship at Keeley's Retford yard. "I've been having problems with having poles down at competitions, and he was really helpful."
SCT's acclaimed Masterclass Series with top riders and coaches is just one example of the training provider's extensive connections within the industry, and as well as providing inspirational training, gives both apprentices and employers chances to establish contacts within the equestrian world and improve their understanding of all sides of that world. By providing access to the best, SCT aims to inspire and provide examples of best practice to those involved with it.
Chris said: "SCT is an example of how to provide a very good, comprehensive connection between those young people coming into the industry and employers who require well-trained staff. It was interesting to me to work on helping riders with a very simple system to help their flatwork and jumping that could be applied to all levels of experience and knowledge."
SCT's equine apprenticeships allow young people to earn a wage and gain valuable qualifications while learning from excellent professionals, giving them the best possible start to working life. It provides all-round support and advice to both apprentices and employers and, through its superb network of contacts within the horse world, is perfectly suited to fit the right person to the right set-up.