01246 566193
Robertshaw wins Apprentice of the Year
24-August-2021
24-August-2021 11:12
in General
by Admin
Lewis Robertshaw is the winner of Stubbing Court Training Ltd (SCT)'s Apprentice of the Year award for 2021.
The 18-year-old, who commutes daily from Bradford to work for showjumpers William and James Whitaker near Huddersfield, has shown tremendous commitment and eagerness to learn since he started his SCT apprenticeship in the winter of 2019.
Chris Bartle, world-renowned coach to Britain's senior eventing team, former Olympian and Badminton winner, judged the final of the SCT Apprentice of the Year competition with Anna Goodley, Director of Lycetts Insurance Brokers at Speetley EC, Chesterfield, on Monday 5 July.
Chris said: "It was a very difficult decision to make between three equally motivated, keen young people, whom I enjoyed teaching today.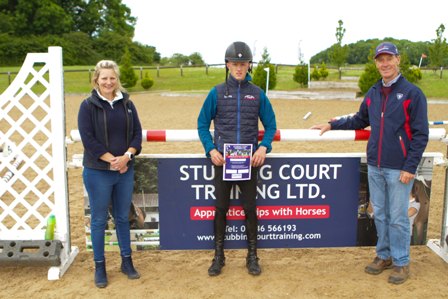 "Lewis showed great potential and trainability and has all the attributes to make a successful professional in the horse industry."
Lewis comes from an unhorsey family, and only had occasional lessons at a local riding school as a child. After completing his GSCEs in 2019, he started a course at an equestrian college, but dropped out after three weeks. The chance to spend a week helping the Whitakers at a show led to a full-time job and an apprenticeship with SCT. He passed his Level 2 Apprenticeship with Distinction and commenced his Level 3 Apprenticeship in January. He has groomed at the Lottery-funded World Class programme training sessions for William Whitaker, as well as at international shows in the UK and abroad.
He won a £250 prize, generously sponsored by Lycetts Insurance Brokers.
Anna Goodley, Director at Lycetts, said: "'Lycetts Insurance Brokers were once again honoured to be asked to sponsor the Stubbing Court Training Ltd 'Apprentice of the Year' award. It was a pleasure to meet and talk to the finalists, all of whom impressed with their dedication to the equine industry. Our congratulations go to Lewis Robertshaw who won the overall title; his passion for looking after and riding showjumpers shone through, and we have no doubt that over the forthcoming years he will succeed in achieving his ambitions. Well done to all and everyone for completing their Apprenticeships during a COVID year - an enormous effort and one that each and every one of you should be proud of."
SCT'S Enterprise Award winner for 2021 is Saskia Rose, who works for Lambley Paddocks Dressage in Nottinghamshire. The Enterprise Award rewards apprentices who help the businesses in which they are employed to become more successful, by expanding their professional skills .
Saskia, 16, started her SCT Apprenticeship in December. She said: "I'm really thrilled to win this award. I'm getting so much out of my apprenticeship - it gives you a much broader understanding of the equestrian world and a wider outlook than studying at college would, and I am learning all the time."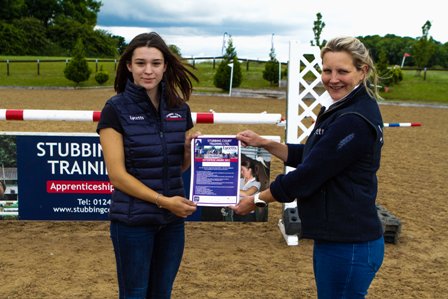 SCT's equine apprenticeships offer young people an outstanding chance to achieve the highest standards of horse care and horsemanship by learning from the best practitioners in the equestrian world. Their contacts are unparalleled, and the company offers exceptional levels of support to both apprentices and their employers, giving advice and training in all aspects of employment. Apprentices earn a wage while gaining valuable, respected qualifications and transferrable skills, giving them excellent employability.