01246 566193
WHITAKER SAYS SCT APPRENTICES ARE A CREDIT TO ALL INVOLVED
20-May-2023
20-May-2023 9:18
in General
by Admin
After a highly successful couple of months competing on the international stage in the Middle East, leading British showjumper Joe Whitaker showed Stubbing Court Training Ltd (SCT) apprentices and employers some of the secrets of his success in a Masterclass at Parklands EC, Sheffield on 31 March.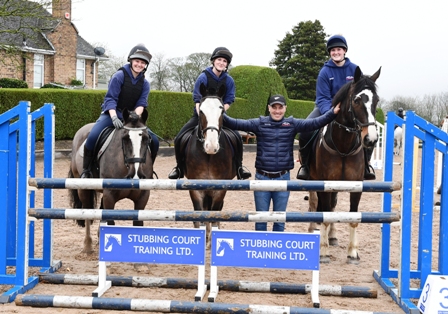 Joe - a former SCT apprentice himself - is a great supporter of the East Midlands -based training provider and understands the important work it does in giving young people the best possible grounding and all-round education in the skills needed to secure good jobs in the equestrian industry.
"Everyone I taught today was a credit to SCT and to all involved," said Joe, who taught nine groups of SCT apprentices and employers of varying standards of experience and ambition. "They had good attitudes and were keen to learn. They were open-minded about new ideas and techniques, and all showed significant improvement by the end of the lesson.
"As ever with SCT, the day was very well organised and all the riders were well turned-out and attentive."
SCT chief executive Belinda Turner MBE said: "We are very grateful to Joe for another superb Masterclass. He is a brilliant coach who has the gift of inspiring everyone he teaches to aim for high standards and good horsemanship."
SCT's celebrated Masterclass Series gives SCT apprentices and employers exclusive access to the very best coaches and riders in the UK. On 3 July, British senior eventing Olympic team coach, Badminton winner and Olympic dressage rider Chris Bartle will give the next Masterclass at Pickering Grange in Leicestershire. The final judging of the SCT Apprentice of the Year Award will also take place that day.
Prior to that, SCT's popular 'Winning Ways' seminar returns at Chatsworth House in Derbyshire on 24 April.

This year, the seminar focuses on best practices to help business sustainability and growth, raise awareness of grants to improve the environment and make best use of resources to reduce costs.
SCT's equine apprenticeships offer young people an outstanding chance to achieve the highest standards of horse care and horsemanship by learning from the best practitioners in the equestrian world. Their contacts are unparalleled, and the company offers exceptional levels of support to both apprentices and their employers, giving advice and training in all aspects of employment. Apprentices earn a wage while gaining valuable, respected qualifications and transferrable skills, giving them excellent employability.