01246 566193
BRILLIANT BUSINESS ADVICE FOR SCT APPRENTICES AND EMPLOYERS
20-May-2023
20-May-2023 9:09
in General
by Admin
Stubbing Court Training Ltd (SCT)'s Winning Ways seminar was described as "absolutely brilliant" by those who attended the day-long forum in the spectacular setting of Chatsworth House, Derbyshire on 24 April. This year's seminar, which is put on for East Midlands-based training company SCT's employers and apprentices to help them improve their business skills, focused on two principal areas. These were best practices to help business sustainability and growth, and awareness of environmental grants to make best use of resources and reduce costs and impact and how to access them.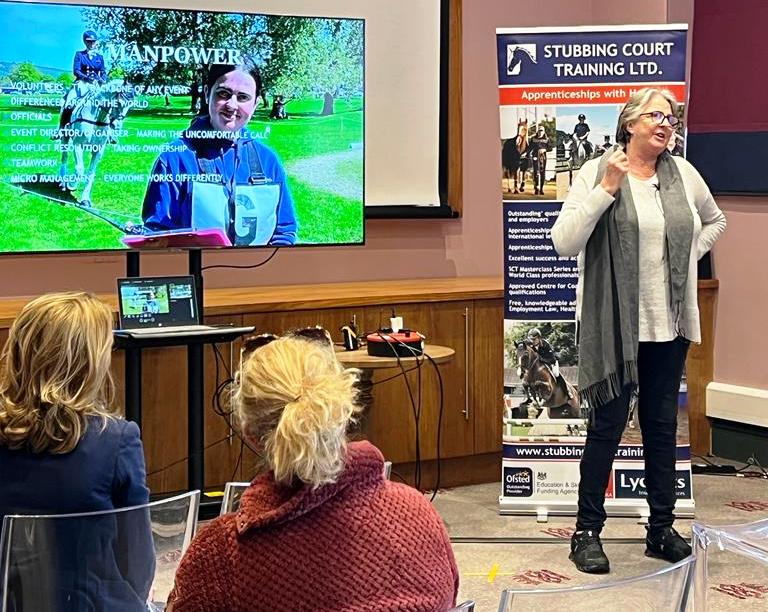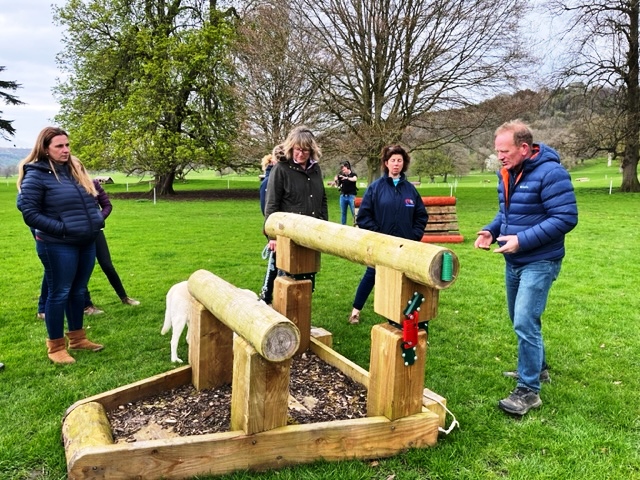 Coach and producer Caroline Thornton of Chebsey Equestrian said afterwards: "What a lovely day - the speakers were all so interesting and knowledgeable, and it was pitched at just the right level for apprentices and employers. Well done SCT!"
The speakers were:
Chatsworth Horse Trials' director Patricia Clifton, a highly experienced FEI Technical Delegate at CCI5* and championship level, on "What makes a world-class event?"

Henry Taylor from Taylor Made Forage, who gave invaluable advice on field management and pasture care.

Burghley Horse Trials' press officer and Horse & Hound journalist Catherine Austen on business promotion through effective social media use.

Anna Goodley from insurance brokers Lycetts on employers' liability insurance.

Sarah Kuruyawa from Peninsula on up-to-date best practice in health and safety and employment law.

Matt Mardling from The Woodland Trust advised on the benefits of trees and tree-planting to your business, and what grants are available in that area.

David Evans - course-builder and course-designer of cross-country courses from Olympic and CCI5* level to grassroots - discussed cross-country course design and planning.
SCT Chief Executive Belinda Turner MBE said: "I am thrilled that the day was such a success and that we received such fantastic feedback about it. These amazing and very special opportunities to learn from and be inspired by the top people in the equestrian world are one of SCT's great strengths and something we feel very passionate about, and the Winning Ways seminar is a great example of that, as is our Masterclass Series.
"Our speakers today gave world-class tips on business success from all angles and all sides - planning, resources, organising, best practice, relationships, legal aspects; the infrastructure you need in place to run a good business - and I hope all those who came to Chatsworth went home with some fresh ideas."
SCT's strong links with Chatsworth mean that during the prestigious horse trials at the Derbyshire venue (12-14 May), SCT apprentices and employers have the opportunity to undertake various volunteer roles that will show them how a major sporting event is staged. Chatsworth Horse Trials will also host the final judging of the SCT Enterprise Award 2023 by Burghley Horse Trials Director Martyn Johnson, which rewards SCT apprentices who contribute to the success of the organisation by which they are employed.
SCT's equine apprenticeships offer young people an outstanding chance to achieve the highest standards of horse care and horsemanship by learning from the best practitioners in the equestrian world. Their contacts are unparalleled, and the company offers exceptional levels of support to both apprentices and their employers, giving advice and training in all aspects of employment. Apprentices earn a wage while gaining valuable, respected qualifications and transferrable skills, giving them excellent employability.