01246 566193
SCT's Saffron shows her Enterprise!
20-May-2023
20-May-2023 9:03
in General
by Admin
Saffron Faulder is the 2023 winner of the Stubbing Court Training Ltd (SCT) Enterprise Award, which rewards awareness, understanding and proactivity in business development among its apprentices.
Saffron, 18, an SCT Equine Groom apprentice who works for Ann Sread at Penwood Stables near Ashbourne, Derbyshire, impressed Burghley Horse Trials Director Martyn Johnson during the final judging of the Enterprise Award on 12 May during Chatsworth Horse Trials.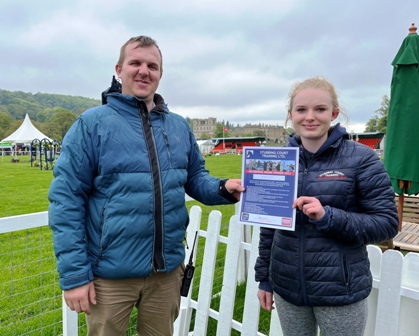 Martyn said: "All three of the young people who reached the final were impressive, but Saffron showed the best understanding of business development and had a solid business plan.
"The SCT Enterprise Award is a great concept; it encourages apprentices to develop awareness of what makes an equestrian business successful, rewards commitment and hard work and helps apprentices make positive all-round contributions to their employers' businesses."
Saffron said: "This has greatly improved my confidence and made us think about different ways in which we can improve the business. My main focus for the business plan I created was promotion of the yard, improving the services and satisfaction for our liveries and communication systems and improved standards, safety and organisation on the yard."
Saffron's employer Ann Sread said: "Saffron has worked for us for a year - we just clicked; she's very conscientious and thoughtful, and definitely has the best interests of the horses and the yard at heart. I'm very proud she has won the SCT Enterprise Award, and it will do her confidence the world of good."
Ann added: "SCT staff are particularly supportive and provide a lot of help and resources, in person and online. Apprenticeships are a great form of broad-based, all-round training for young people wishing to have successful and long-lasting careers in the equestrian world."
The other two Enterprise Award finalists were Kate Porritt (Marcin Stachurski Dressage Ltd) and Lily Robinson-Holford (Almond Equestrian Ltd). All three candidates had to present their business plans to Martyn Johnson, who then interviewed them about their plans and ideas.
Saffron received a cash prize of £150.
SCT, Britain's leading provider of apprentices to the equine industry, gives its apprentices (and their employers) a wide range of opportunities for professional development and to learn from the leading figures in the equestrian world.

Both Saffron Faulder and Ann Sread acted as dressage stewards for Chatsworth Horse Trials' feature class, the CCI4*-S Nations Cup, and Saffron said: "This was a really good opportunity as I was able to watch the tests and meet some of the riders as they came out of the arena. From this I learnt much more about the planning and organisation that goes into a world-class event, which was also supported by the 'Winning Ways' seminar I attended (at Chatsworth House on 24 April). I would like to thank Stubbing Court Training for giving me this opportunity, and my employer Ann Sread for supporting me."
SCT's equine apprenticeships offer young people an outstanding chance to achieve the highest standards of horse care and horsemanship by learning from the best practitioners in the equestrian world. Their contacts are unparalleled, and the company offers exceptional levels of support to both apprentices and their employers, giving advice and training in all aspects of employment. Apprentices earn a wage while gaining valuable, respected qualifications and transferrable skills, giving them excellent employability.