01246 566193
William Richards is SCT's Apprentice of the Year
16-July-2019
16-July-2019 21:10
in General
by Admin
"I feel like the hard work has paid off," said 17-year-old William Richards after he received his prizes for winning Stubbing Court Training Ltd (SCT)'s Apprentice of the Year award from international showjumper Joe Whitaker.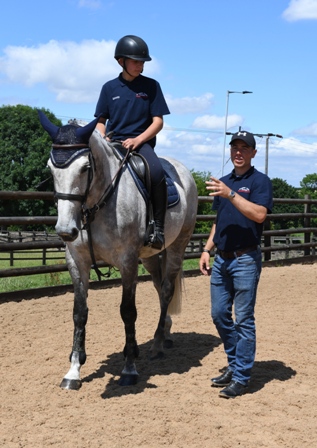 Joe was giving a Masterclass exclusively to SCT's apprentices and employers at Parklands EC, Sheffield on 5 July, and also did the final judging for the much sought-after Apprentice of the Year award.
The three finalists – William, who is an SCT equestrian Apprentice with showjumper Matthew Sampson, Isabel Wain, Apprentice with the legendary John and Clare Whitaker, and Alex Browett, Apprentice with Biggin Hall Equestrian - were nominated by their employers for outstanding standards at work and exceptional commitment to learning and the Apprenticeship.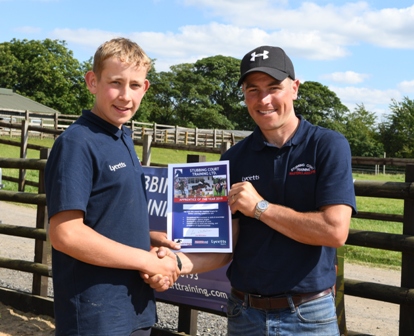 Joe, himself a former SCT Apprentice and now an employer of Apprentices – said: "The judging was incredibly difficult as they all had such a strong commitment to exceptional standards of horse care, and a superb attitude and work ethic.
"Will showed outstanding skills and standards gained from the opportunities his SCT Apprenticeship has given him, such as travelling to international shows and working with top-class horses. He has a great attitude and such enthusiasm to learn, and he is now keen to help others and encourage them to join the Apprenticeship programme."
William said: "It's brilliant to have won – I am really grateful to my employer Matthew and to SCT for the opportunities and the world-class training they have given me."
William wins a cash prize of £100, donated by Lycetts Insurance, a £100 voucher donated by Thomas Irving Equestrian Superstore, and a 12-month subscription given by Equestrian Life magazine.
It was a busy day for Joe Whitaker, who also taught a large number of groups of SCT apprentices and employers as part of SCT's renowned Masterclass Series. SCT enjoys unrivalled access to and relationships with Britain's very best riders and coaches, which gives the East Midlands-based training company's Apprentices and employers extraordinary access to top-class training and inspiration, which considerably benefits their personal and professional development.
Joe said: "It was great to meet so many happy apprentices and employers. They were all keen to improve and open-minded, and their standards were very high."