01246 566193
Apprenticeships give the best chance of a successful career
14-April-2018
14-April-2018 19:13
in General
by Admin
The Baugh family are proof of the strengths and advantages of training provider Stubbing Court Training Ltd (SCT)'s equestrian apprenticeship scheme. Their busy and successful equestrian set-up, Holme Farm Livery Stables in Caunton, Newark, boasts one former SCT apprentice – 23-year-old Jess Baugh, who runs a schooling and competing yard alongside her mother Karen's livery yard – and one current SCT apprentice, 19-year-old Lucy Woodward.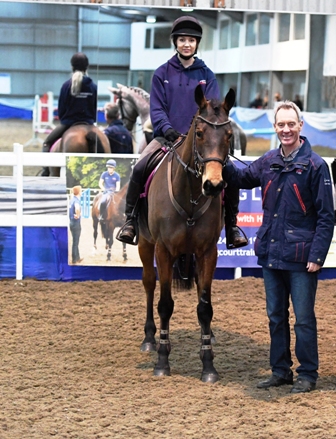 "I was an SCT apprentice while I worked for [top trainer and producer of young horses] Judy Bradwell," says Jess. "I wanted the extra qualifications the apprenticeship offers, and also the wage that comes with an apprenticeship.
"I found that the apprenticeship syllabus was very comprehensive and offered a broad, all-round training in horse care, and liked the fact that it taught you to be practical and efficient – I got a lot out of it."
Now the Baughs employ Lucy, who is studying for her Advanced Apprenticeship.
Jess says: "We are in a position where we can train someone well. Lucy gets to do a variety of different sorts of things, from general yard work to preparing competition horses and grooming at shows, and working with young horses. Lucy is great and has got to the stage where we can leave her to it – she uses her initiative and is really good with the horses."
Lucy, who has been at Holme Farm for two years, admits that she didn't enjoy school, but was aware of the importance of qualifications.
"I like learning on the job rather than in a classroom," she says. "I find the apprenticeship scheme is really well structured and easy to follow. I can do it in my own time, and online learning is a real plus.
"Someone from SCT comes to see me every month and they offer really great support.
"I want to follow a proper career in the equestrian industry, and the combination of SCT's apprenticeship scheme and learning on such a good yard from people with such a depth of knowledge should give me the best possible chance."