01246 566193
Learn Winning Ways with SCT
13-December-2018
13-December-2018 8:45
in General
by Admin
"Inspirational", "motivational" and "fascinating": these were the words most used by attendees to describe Stubbing Court Training Ltd (SCT)'s "Winning Ways" seminar on 5 December.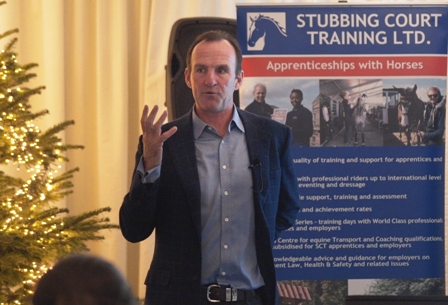 East Midlands-based SCT, Britain's leading provider of apprentices to the equine industry, held their third annual "Winning Ways" seminar exclusively for its apprentices and employers at the Van Dyk Hotel, Clowne.
Three truly world-class speakers gave engaging presentations to those present.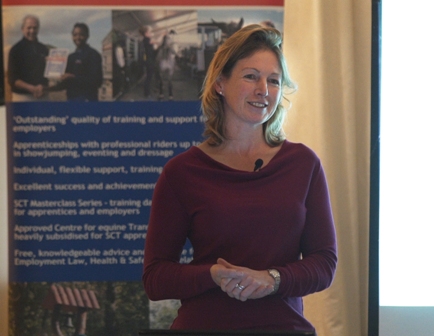 Peter Stacey of the Adult Learning Improvement Network spoke on "Maximising Potential". He was followed by first Richard Waygood, Performance Manager of the gold medal-winning British eventing team at the 2018 World Equestrian Games – and formerly Performance Manager of the Olympic gold medal-winning dressage team – who discussed Optimum Team Performance. Finally Liz Brown, the highly experienced vet to Team GB, talked about Loss Of Performance And How To Avoid It.
"Having access to the best in the world, with enormous expertise and insight, is an amazing benefit of being involved with SCT," said one attendee.
SCT Chief Executive Belinda Turner MBE said 'it was a huge privilege to hear the insights from our speakers on the factors that lead to outstanding performance, from both the human and horse perspectives. We greatly appreciate their support and involvement in the SCT Apprenticeship programme, and all the employers and apprentices who attended.'
This follows closely on the heels of SCT's exclusive Masterclass with Chris Bartle, undoubtedly the most successful and sought-after coach in the equestrian world, and underlines SCT's commitment to providing its apprentices and employers with exceptional opportunities for personal development, superb training and chances to develop employability and professionalism.