01246 566193
'Learn from everybody' says Apprentice of the Year Ruby Hurd
13-July-2023
13-July-2023 20:50
in General
by Admin
Ruby Hurd was crowned Stubbing Court Training Ltd (SCT)'s Apprentice of the Year 2023 on 3 July.
The final judging for this prestigious award took place during a Masterclass by Chris Bartle - coach to the senior British eventing team, former Badminton winner and dressage Olympian - at Pickering Grange EC, Leics.
Ruby, 18, is apprentice and work rider for Kelly Aldous and Kyle Hassell's BDA Equestrian near Sleaford in Lincolnshire.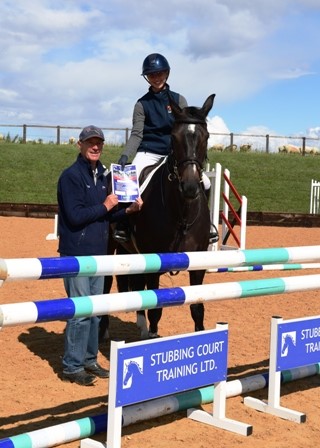 She and fellow Apprentice of the Year finalist Alissa Jackson, from Alderwood Stables near Doncaster, were nominated by their employers and then put through their paces during an interview in which they presented their portfolio to Chris Bartle and Anna Goodley, director of Lycetts Insurance. To be nominated for the Apprentice of the Year final, apprentices have shown exceptional commitment to the apprenticeship and their job, such as having completed voluntary work experience, written articles to promote their yard and apprenticeships, and completed all modules on target. They must have demonstrated performance to world-class standards.
Ruby said: "I am absolutely delighted to have won the title of SCT's Apprentice of the Year 2023! The final judging was during a fantastic Masterclass day run superbly well by Belinda Turner and her team at Stubbing Court Training. Kyle and I really enjoyed learning from the Olympic coach Chris Bartle and picked up numerous great things to take away to work on.
"I will be forever thankful to Stubbing Court Training for helping me to further myself in my career. I have been lucky enough to be able to visit a few different world-class competition yards throughout my apprenticeship and been able to learn so many new things, from the health side of the care of competition horses to understanding what it takes behind the scenes to run a business in the equine industry, which I am aspiring to be able to achieve. Thankfully the team at BDA Equestrian, my apprenticeship with SCT and new contacts I have been able to make are helping me fulfil this. I look forward to the rest of my time with SCT and cannot wait for the exciting opportunities that they give us."
Ruby added that her mantra has become: "Learn from everybody, copy no one and be the best version of yourself."
Chris, who had flown back from managing the British eventing team in the Nations Cup competition at Aachen, Germany, to coach SCT apprentices and their employers of varying degrees of experience and ambition at Pickering Grange, said: "Having been involved for many years with SCT's Apprenticeship scheme, it is very gratifying to see the enthusiasm of employers and apprentices and to see them learn and progress. I very much enjoyed seeing their enthusiasm and willingness to learn, and it was great to see the improvement within each session because of their engagement and aptitude."
Ruby received a cash prize of £200 kindly provided by Lycetts, to whom SCT are very grateful for their continued support and generosity.
Anna Goodley of Lycetts said: "Lycetts are proud to sponsor the 2023 Apprentice of the Year Award. Once again Stubbing Court Training Ltd are recognising and rewarding their best apprentices, and Lycetts are very proud to be associated with this initiative. Attracting good grooms and riders in horse sport is crucial, and these apprentices are getting the very best start to their careers."
SCT's equine apprenticeships offer young people an outstanding chance to achieve the highest standards of horse care and horsemanship by learning from the best practitioners in the equestrian world. Their contacts are unparalleled, and the company offers exceptional levels of support to both apprentices and their employers, giving advice and training in all aspects of employment. Apprentices earn a wage while gaining valuable, respected qualifications and transferrable skills, giving them excellent employability.