01246 566193
Set yourself up for success with an Apprenticeship
13-January-2018
13-January-2018 11:42
in General
by Admin
Olympic event rider Mark Kyle and his wife Tanya, who run a successful international competition yard near Wymeswold in Leicestershire, are one of Stubbing Court Training Ltd (SCT)'s most loyal supporters. They have employed around 40 SCT apprentices over the years, teaching them the skills necessary to further their employment in the equestrian industry.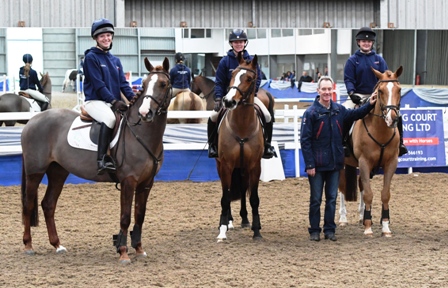 Amy Kisby, Antonia Betson and Holly Eves are all currently working for the Kyles at Queenholme Equestrian – and all three are closely connected to SCT's renowned equine apprenticeship scheme.
Amy, 26, is the head groom, and has worked for the Kyles for nine years. During that time she has groomed at two Olympic Games, the European Championships, Badminton and Burghley, among other top competitions. She is a former SCT apprentice, and is now passing on her knowledge and skills to Antonia, 18, and Holly, 19.
Amy says: "We have a very busy yard and handle lots of different types of horses, from eventers to hunters, showjumping ponies, youngsters and horses here on livery or to be sold. We need hardworking, honest staff who love the horses and who want to do things in the best way possible. The SCT apprenticeship offers the chance to learn on the job while earning a wage – it is much better than the classroom-based college system, in my opinion. You learn faster and more thoroughly."
Holly did a course at college first. She says: "Actually working on a yard is so different to learning about the theory of doing it. Things never happen in the way they say they might in a book! I have learnt to be adaptable and to react more quickly. I want to have a proper career with horses, and I think this gives me the best possible chance to do that."
Online learning is a significant part of SCT's ethos, and works very well with the demands of a full-time job as it is so flexible. Antonia says: "Being able to learn online means it is easy to fit it in when it suits you, and makes it easy to keep track of where you are in the syllabus and what you have done. I think SCT offers really good support to its apprentices – they are easy to contact and are really helpful when you need something."
Amy says: "The most important thing as an employee in the equine industry is that they put the horses first. We can train them to be efficient, to do things in the correct way, to be organised, to plan ahead well – but we can't teach them that. It must come instinctively.
"We want apprentices to be able to work anywhere in the world when – if – they leave us. They will have a recognised, transferrable qualification, and all the skills to do well in life."