01246 566193
'Apprenticeships are the perfect all-round education'
10-September-2022
10-September-2022 9:14
in General
by Admin
'I was one of the very first 'modern apprentices' in the late 1990s, and I've employed apprentices from Stubbing Court Training Ltd (SCT) ever since," says Lee Penny.
Lee, a UKCC Level 3 coach who runs Landown Equestrian in Findern, Derbyshire, is a firm believer that the apprenticeship system is the best way for young people to set themselves up for a good, long-lasting career in the equestrian world. And he knows that SCT - the UK's leading provider of apprentices to the equine industry - provides apprentices with the best training and support in their quest for such a career.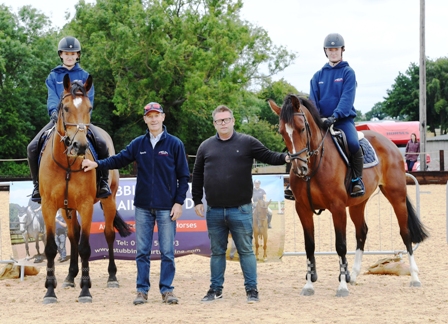 "I think that the college-based system leads to a culture of 'finishing when the bell goes', which just isn't possible or right when caring for horses," Lee says. "It is far better to train day-to-day in a well set-up, properly run yard and to learn what the job is really like. The apprenticeship syllabus provides the perfect all-round education with nothing missed out - it is broad and thorough, and encourages high standards, while being paid a wage and being supported in their learning and development."
Lee appreciates the support SCT gives to employers, too: "SCT makes sure we are up-to-date with important things like health and safety, employment law, first aid and all other areas of our own professional development as employers."
Lee currently has two SCT apprentices, Erin Finnegan and Jessica Pywell - both of whom were lucky enough to take part in a recent SCT Masterclass for world-renowned coach and former top-class eventer and dressage rider Chris Bartle at Pickering Grange EC in Leicestershire.
"They are both doing really well," said Lee. "To have coaching from Chris Bartle, and the other amazing coaches that SCT offers through the Masterclass Series, is a real treat for them and I hope it inspires them to keep pushing their own standards upwards."
Erin, 17, said: "SCT has been brilliant - I use the online learning library a lot and there is always someone I can talk to if I have a question about anything. Classroom-based learning doesn't really suit me - I'm a practical, hands-on person - and an apprenticeship is definitely the best thing I've done. I'm getting opportunities I never imagined I would."
SCT's acclaimed Masterclass Series, which exclusively offers training with world-famous riders and coaches to its apprentices and their employers, is just one example of the opportunities available. SCT's Enterprise Award and its Apprentice of the Year award aim to encourage apprentices to strive for the highest standards in all aspects of their work.
SCT's equine apprenticeships allow young people to earn a wage and gain valuable qualifications while learning from excellent professionals, giving them the best possible start to working life. It provides all-round support and advice to both apprentices and employers and, through its superb network of contacts within the horse world, is perfectly suited to fit the right person to the right set-up. It provides superb training, wide-ranging opportunities for personal development and chances to develop employability and professionalism.