01246 566193
Support and a strong network help people thrive
08-July-2017
08-July-2017 11:50
in General
by Admin
"Networking is an important part of success in the equestrian world, and Stubbing Court Training Ltd (SCT)'s apprenticeships help young people do that," says Becky Mullan-Feroze, who runs a busy yard in Ripley, Derbyshire. "They meet the right people to learn from, and are given positive examples of how to be a success in this world."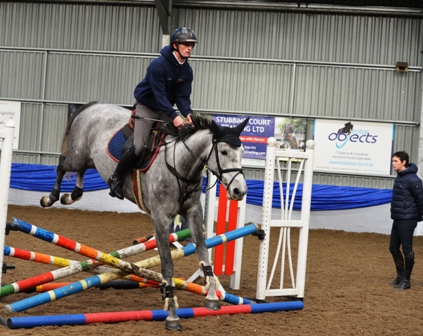 Becky has employed apprentices from SCT, the Chesterfield-based leading training provider, since she set up her own yard in 2005, and 12 have passed through her hands during that time.
"I employ two of them full-time now – Kelsey Walker and Kennedy Moon, who have been with me for eight and seven years respectively," she says. "I am a big fan of the apprenticeship programme, which pays young people a wage while they learn and train, gives them a respected qualification and allows them to learn in a practical, hands-on way."
18-year-old Elliot Betts has recently passed his Advanced Apprenticeship while working for Becky. He joined her from showjumper Andrew Saywell's operation last autumn.
"Elliot is brilliant. He has flourished into a very enjoyable lad to work with," says Becky. "He's a hard worker and is a joy to have on the yard – as are all my staff, who are a great team."
Elliot has ambitions to be a professional showjumper, and says: "I know I learn better by doing things than by looking at books, and the apprentice scheme allows me to do that. The qualifications are important and SCT is very supportive, as well as helping me make contacts."
Becky says: "Because I was a working pupil myself back in 1980, I understand the stage my apprentices are at. SCT's support – physically, emotionally and pastorally – is excellent, and they help young people build the sort of good, strong support network I didn't have back then. With that backing, it gives apprentices every chance to enjoy a long and fruitful career in the equestrian world."