01246 566193
WHITAKER: SCT APPRENTICES ARE DEDICATED AND COMMITTED
06-May-2022
06-May-2022 21:13
in General
by Admin
Leading British showjumper Joe Whitaker's exclusive Masterclasses for Stubbing Court Training Ltd (SCT) are so popular that there is always a waiting list - even, as Joe did on 1 April at Parklands Equestrian Centre, Sheffield, he starts coaching at 8.30am and doesn't finish until 5pm. Chilly weather did not deter the participants, all of whom were highly appreciative of Joe's excellent coaching skills in the latest of this renowned Masterclass Series, which is exclusive to apprentices and employers from the UK's leading equestrian training provider.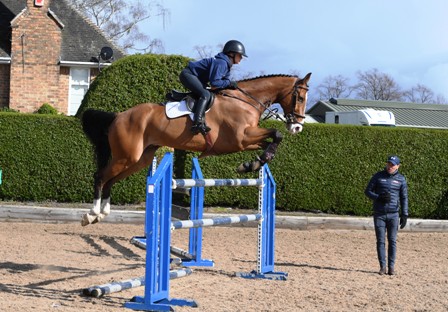 SCT Chief Executive Belinda Turner MBE said: "Joe is a brilliant, inspirational trainer, and we want as many of our apprentices and employers as possible to benefit from his world-class help and advice. But we advise them to sign up early, as we know that every session will be full! We can't thank Joe - a former SCT apprentice himself - enough for his dedication to SCT and for being passionate about giving people opportunities to learn and to achieve their goals."
Joe, who fitted in his SCT masterclass between international showjumping commitments in Europe, said: "Massive improvements were made during every session, which is a great credit to open-minded, hard-working groups of apprentices. It is a pleasure to work with apprentices with such dedication, passion and commitment to their careers with horses. From experience, I know they will go on to gain further experience and knowledge to progress even further through the apprenticeship programme and beyond."
As one attendee commented, "It was well worth the 5.30am start! I learnt so much and could feel myself gaining in confidence throughout the session - I can't wait for the next one."
SCT believes passionately that its apprentices deserve every opportunity to learn from and be inspired by the best riders, trainers and coaches in order to develop skills and confidence. As well as the Masterclass Series and opportunities for apprenticeship placements with highly successful yards and equestrian businesses, SCT's extensive online learning library contains videos of top figures from the equine world demonstrating best practice in all the skills necessary to help young people succeed in their chosen careers.
SCT's equine apprenticeships offer young people an outstanding chance to achieve the highest standards of horse care and horsemanship by learning from the best practitioners in the equestrian world. Their contacts are unparalleled, and the company offers exceptional levels of support to both apprentices and their employers, giving advice and training in all aspects of employment. Apprentices earn a wage while gaining valuable, respected qualifications and transferrable skills, giving them excellent employability.