01246 566193
From apprentice to employer with SCT...
04-November-2018
04-November-2018 12:09
in General
by Admin
If proof was ever needed that Stubbing Court Training Ltd (SCT)'s apprenticeships offer a fantastic pathway into a successful career in the equestrian industry, it is demonstrated in the number of former apprentices who, once they run their own businesses, strongly encourage young people who wish to work for them to become apprentices.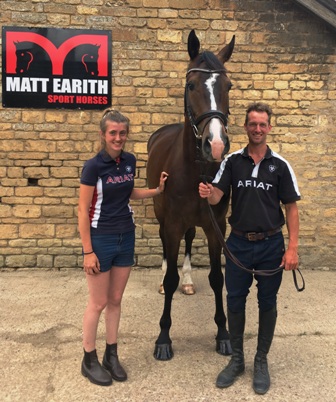 Matt Earith is just one example. The 30 year old gained his Level 2 and Level 3 Apprenticeships while working for Derbyshire-based event rider Maddy Moffett for two years when he left school.
"I knew I wanted a career with horses, but I also knew I didn't want to go to college – I learn far better 'hands-on' than I do in a classroom, and I think the only way to learn in the horse world is to do it, day in, day out, in a practical way," says Matt. "The great thing about an apprenticeship is that you can do that, but it is backed up by a comprehensive curriculum and to complete your portfolio, you have to demonstrate that you understand how to care for horses properly. You need passion to work with horses, but it needs to be supported by knowledge and experience."
Matt then moved to Northumberland to ride for a stud, and also worked for a racehorse trainer at the same time. At the young age of 20 he set up his own 15-box eventing yard, which he ran successfully for five years.
"Then, very sadly, the owners died and the yard was sold. I came back down south and went to ride for Piggy French (a member of Britain's gold medal-winning team at the recent World Equestrian Games), to refresh my desire to do the job. She'd just moved to a new yard, which is amazing, and she had always inspired me as a rider."
Matt spent a wonderful year and a half working with Piggy, and learnt a great deal from one of Britain's very best riders and producers of horses.
"In April this year I set up my own yard again, 15 minutes from Burghley Horse Trials, between Corby and Stamford, on the Deene Park estate," says Matt. "I have a lovely 10-box yard of mostly eventers, with some in for schooling or sale."
He has just employed his own SCT apprentice – 16-year-old Freya Currie – and is looking to take on a second apprentice.
"Freya is fantastic – really willing to learn and improving week by week," he says. "It doesn't matter if you don't know a lot already, as long as you are willing and enthusiastic.
"And from an employer's perspective, SCT gives me such brilliant help with things such as employment law and health and safety. Both Freya and I are well-supported; I would advise any young person wanting to work with horses to do an apprenticeship with SCT – it's definitely the route to a proper career."
SCT's equine apprenticeships allow young people to earn a wage and gain valuable qualifications while learning from excellent professionals, giving them the best possible start to working life. It provides all-round support and advice to both apprentices and employers and, through its superb network of contacts within the horse world, is perfectly suited to fit the right person to the right set-up.