01246 566193
SCT apprentices benefit from Olympic success
02-December-2021
02-December-2021 20:49
in General
by Admin
It's been an outstanding year for British equestrian sports, with our able-bodied and Paralympic athletes returning from the Tokyo Olympics with a haul of 13 medals - eight from the Paralympics and five from the Olympics.
As eventing team gold medallist Oliver Townend said: "We really hope that our success shows young people that you can be from a very normal background without lots of money and make it to the top if you want it enough. We hope that we can inspire young people to set - and reach - their own goals."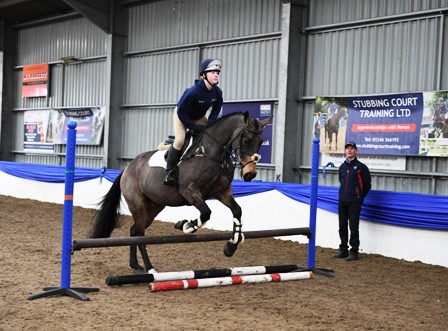 Stubbing Court Training Ltd (SCT), Britain's leading provider of apprentices to the equine industry, constantly strives to give young people the best possible chances to make lasting and successful careers in equestrianism. SCT's unparalleled contacts throughout the industry make it uniquely placed to offer opportunities to learn from - and be inspired by - the very best, through exclusive Masterclasses, through exceptional online learning tools, and through work placements with top coaches and riders.
Chris Bartle coached Oliver Townend, Laura Collett and Tom McEwen to that team gold medal in Tokyo this summer, and for the second time in 2021 Chris gave an exclusive Masterclass to SCT apprentices and employers in November. He worked with a wide range of riders of differing experience and abilities at Vale View Equestrian, sharing the brilliant teaching and horsemanship skills that have made him into one of the world's most valued coaches.
'Having had an amazing year winning the Gold medals at the Olympics and European Championships, I looked forward to again coming to teach the SCT apprentices. They are always fun, have huge potential and interest and are very trainable at this stage of their career', said Chris. 'It is also great to have employers riding, who are then able to reinforce the training ideas with their apprentices later. I believe it is so important to train, develop and give these opportunities to enable the apprentices to develop their careers further'.
SCT understands that not everyone who wants to work with horses is a keen rider, and the East Midlands-based training organisation has just released new Online Learning videos to help non-riding apprentices fulfill the demands of their curriculum, which requires them to organise events or activities as part of business diversification.

These feature none other than Alec Lochore, Competition Manager of the eventing at the London, Rio and Tokyo Olympic Games, organiser of major horse trials such as Burnham Market and Blair Castle, and a former top-level competitor himself. Alec generously gave up his time to give SCT apprentices exclusive insights into event organisation from Olympic level downwards - the most important factors to consider, how to problem-solve and what makes a "world-class" event.
SCT Chief Executive Belinda Turner MBE said: "We are very privileged to have the support of world class professionals such as Alec and Chris, who are kind enough to want to share what they have learned in their careers with SCT apprentices and employers. The horse world has so many varied opportunities for young people, and our apprenticeships give them the solid grounding from which they can progress to anything they want."
SCT believes passionately that its apprentices deserve every opportunity to learn from and be inspired by the best riders, trainers and coaches in order to develop skills and confidence. As well as the Masterclass Series and opportunities for apprenticeship placements with highly successful yards and equestrian businesses, SCT's extensive Online Learning programme includes training from top figures from the equine world demonstrating best practice in all the skills necessary to help people succeed in their chosen careers.