01246 566193
School leavers: become an apprentice and earn while you learn from the very best
01-June-2018
01-June-2018 12:34
in General
by Admin
Are you leaving school very soon and have an idea that you might want to work with horses?
Then check out equestrian apprenticeships with Stubbing Court Training Ltd (SCT). The East Midlands-based training company is the UK's leading provider of apprentices to the equine industry, and goes to great lengths to match young people to suitable employers and to support them in gaining a recognised and valued qualification.
Sam Bray, 17, is keen to share his experience of an SCT apprenticeship. He works for one of the greatest showjumpers the world has ever seen – John Whitaker – and is doing his Level 2 Apprenticeship.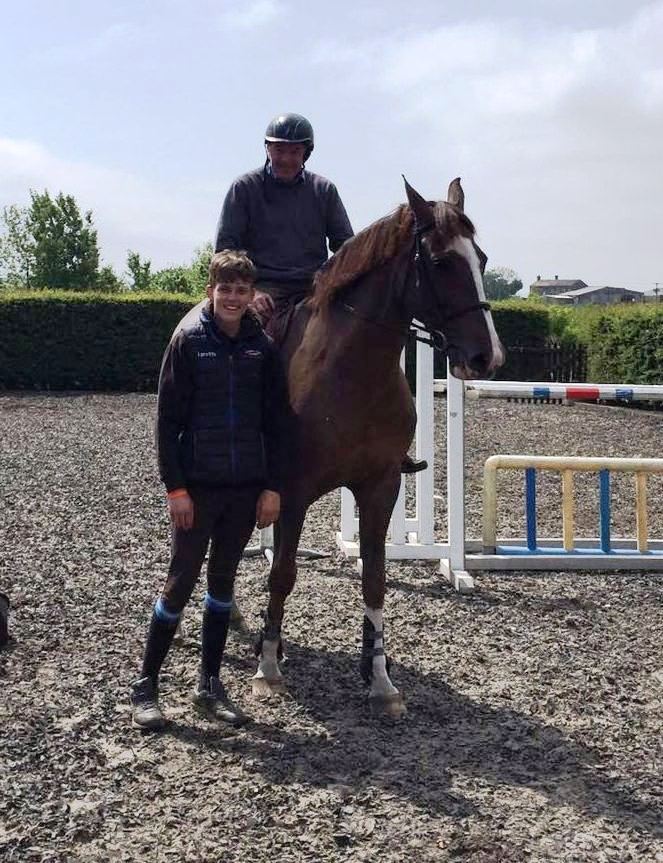 "If you like horses, get yourself an Apprenticeship – I highly recommend it," he says. "I did work experience at John Whitaker's when I was in year 10 at school, and from there I got a summer job with him. That turned into weekend work during my last year at school, and then he offered me the chance to do the Apprenticeship with him via SCT."
Sam had thought about going to an equine college, but he says: "I don't like sitting down in a classroom being talked at. I much prefer to learn in a practical way.
"I've had incredible opportunities through working for John – I was in Spain for six weeks earlier this year grooming for him on the Sunshine Tour; I've groomed at CSI4* shows, and I've ridden everything, ranging from three-year-olds to his very top horses such as Argento and Ornellaia. To learn how such a professional yard runs means that I have incredibly valuable information that will stay with me for life. John helps me so much – you would never get opportunities like that at college."
The apprenticeship syllabus is broad and very thorough, with modules that must be completed with the assistance of online resources. Sam admits that he finds written work hard.
"But Belinda Turner, SCT's Chief Executive, is amazing – she really wants you to do well and she encourages me and pushes me when I need it. SCT is so supportive of its apprentices" says Sam.
Somehow, Sam fits in eventing three horses as well as undertaking his apprenticeship and working for John.
"I really want to be a professional rider one day, and my horses are benefiting from the professional approach and the little tips I learn every day," he says. "It is inspiring. John was once my age, and has worked so hard to get where he is – I've learnt that you get out what you put in to life. I get a wage – apprentices are paid to learn, and who wouldn't want that? And you grow up. You are working in the real world."
Sam points out that SCT's contacts in the equestrian industry are unparalleled, from top riders in all disciplines to livery yards and riding schools, its support of both apprentices and employers is excellent and the company provides world-class training and opportunities.
Ellie Dickinson started her apprenticeship at Grenoside Equestrian Centre, a riding school in Sheffield, last September.
"I had a friend who completed the apprenticeship programme before she went on to do her teaching exams, and it seemed like a really good way to get into the equestrian industry," she says. "Through SCT, I have done my Riding and Road Safety and have completed my L1 and L2 English and Maths Functional Skills while working towards my apprenticeship."
Ellie has also benefited from SCT's exclusive and celebrated Masterclass programme, where the UK's top riders and coaches teach small groups of SCT apprentices and employers and share their knowledge and experience with them.
"I attended a Masterclass with [top young showjumper] Joe Whitaker recently, which was a brilliant opportunity, and I'm really looking forward to going to a Masterclass with Matthew Sampson soon," she says.
Ellie also had the chance to work as a volunteer at Chatsworth International Horse Trials, one of the country most prestigious events.
"I got to meet and talk to [former world and Olympic champion] Blyth Tait, and rubbed shoulders with loads of really famous riders," she says.
She aims to complete work experience with an international rider shortly, with SCT's help.
"The apprenticeship is a very well-run programme and is a brilliant way to learn in the workplace, make contacts within the industry and earn a wage at the same time," she says. "I've received a tremendous amount of support from the team at SCT, my employer and my assessor. I want to go on to do my Advanced Apprenticeship and coaching qualification with SCT, with the aim of teaching riding."